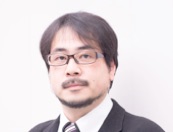 Hiroshi Yabu (Dr. Sci)
JUNIOR PRINCIPAL INVESTIGATOR
ASSOCIATE PROFESSOR 
WPI-AIMR, TOHOKU UNIVERSITY
Biography
Education
1995.03
Graduated from Nishio High School, Aichi Prefecture, Japan
2000.03
Bachelor degree, Faculty of Science, Hokkaido University, Hokkaido, Japan
2002.03
Master degree, Division of Biological Science (Macromolecular Functions), Graduate School of Science, Hokkaido University, Hokkaido, Japan
2004.06
Doctor degree, Division of Chemistry, Graduate School of Science, Hokkaido University, Hokkaido, Japan (short term graduation)
Academic
2001.10
NEDO Junior Fellow, New Energy and Industrial Technology Development Organization, Japan
2002.04
JSPS Fellow (DC1), Japan Society for the Promotion of Science, Japan
2004.07
Assistant Professor, Nanotechnology Research Center, Research Institute for Electronic Science, Hokkaido University, Japan
Visiting Researcher, Institute of Physical and Chemical Research (RIKEN Institute), Japan (served concurrently until 2007.09)
2007.04
Assistant Professor, Institute of Multidisciplinary Research for Advanced Materials, Tohoku University, Miyagi Prefecture, Japan
2008.10
PRESTO Researcher, "Nanosystem and Function Emergence" Project, Japan Science and Technology Agency (JST) (serve concurrently until 2012.12)
2010.04
Associate Professor, Institute of Multidisciplinary Research for Advanced Materials, Tohoku University, Miyagi Prefecture, Japan
2012.10
PRESTO Researcher, "Molecular Technology and Creation of New Functions" Project, Japan Science and Technology Agency (JST) (serve concurrently until 2016.03)
2016.04
Junior Principal Investigator (Associate Professor), WPI-Advanced Institute for Materials Research (AIMR), Tohoku University, Miyagi Prefecture, Japan
Awards

2001.10.21

Poster Award,of Xiangshan Science Conference on Functional Supramolecular Systems (XSCSS2001), China.

2004.09

16th JSAP Presentation Award, Japan Society of Applied Physics, Japan.

(第16回応用物理学会講演奨励賞)

2004.11.05

Poster Award for Young Researcher, KJF2004, Korea.

2005.03.23

Matsumoto-Hatori Award, RIES, Hokkaido University, Japan

(松本・羽鳥奨学賞)

2008.09.11

IUPAC Poster Award, MAM-08, Germany

2011.03.27

CSJ Award for YoungInvestigators, The Chemical Society of Japan.

(日本化学会 進歩賞)

2011.05.26

Award for Encouragement of Research in Polymer Science, The Society of Polymer Science, Japan.

(平成22年度 高分子学会 研究奨励賞)

2011.06.02

Award of TOKIN Science and Technology Foundation, Japan.

(トーキン科学技術振興財団 研究奨励賞)

2012.01.04

Outstanding Poster Paper Award, International Display Workshop (IDW) '11, Japan

2014.04.17

The Young Scientists' Prize, The Commendation for Science and Technology by the Minister of Education, Culture, Sports, Science and Technology (MEXT), Japan.

(科学技術分野の文部科学大臣表彰 若手科学者賞)

2014.06.11

Konica Minolta Science and Technology Foundation Award,The Imaging Society Japan,

(日本画像学会 コニカミノルタ科学技術振興財団研究奨励賞)

2014.12.04

1st Place, Science As Art Competition, Materials Research Society, USA

2016.04.25

The Ichimura Prize in Science for Distinguished Achievement, The New Technology Development Foundation, Japan

(公益財団法人 新技術開発財団 市村学術賞 貢献賞)